About Cilia Petridou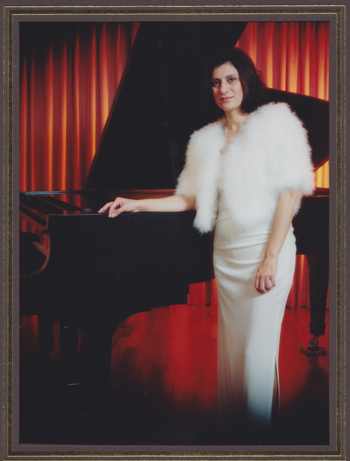 Greek-Cypriot pianist/composer Cilia Petridou was born in Famagusta Cyprus in 1945. She was taught by her mother from the age of four until the age of nine, when she entered the Greek Lyceum in her native town. She performed her first piano concerto, Mozart's K. 488, at the age of eleven in Nicosia, at the Theatre Royal.
By the age of fifteen Cilia had been awarded the Mozart Medal, the highest award in the whole of Cyprus, and had been hailed as the successor to Gina Bachauer. When she was seventeen she offered a full programme for her Diploma Examination, which was open to the public, and which ended with a performance of Beethoven's Third Piano Concerto. The examiner, Solon Michaelides, gave a short speech afterwards and finished by saying that he had been examining for thirty years, in Cyprus and abroad, and that this was the first time he had heard such a captivating performance by an examinee.
Two years later, when the Greek Lyceum moved to its new purpose-built home - a state-of-the-art centre for the performing arts - its director, M. Ioannou, approached Cilia's mother and said that she would like Cilia to become its director for life after her studies abroad, adding that it was only Cilia that she trusted for this post. Sadly, Famagusta has been a "Ghost Town" since the Turkish invasion in 1974.
Cilia studied at the Vienna Academy and the Royal Academy of Music in London. She furthered her studies privately under Harold Craxton and Kendall Taylor. A chance meeting with a music lover who introduced her to his circle enabled Cilia to perfect her piano playing, increase her repertoire and test her programmes as she prepared them. Cilia has played several times live on Cyprus radio. Unfortunately, her playing came to an abrupt end in 2002 after major surgery.
When she finally realised that performance could no longer be part of her life, she started to look through her compositions. The first composition she stumbled on was the Lullaby for Soprano and Piano, which brought a smile to her face and encouraged her to type out some of her songs. These she showed to Eileen Hamilton, who expressed her appreciation of them.
It is ironic that composition — which had been a much-loved hobby — has now taken centre-stage. Through Alison Smart and Lesley-Jane Rogers, who have recorded the songs shown to Eileen Hamilton, she has been introduced to a group of very gifted musicians who seem to have enjoyed learning and recording some of her chamber and vocal music.
Following the musicians' preparation for performance has given her immense satisfaction.
Comments by Solon Michaelides about her piano playing:
"Delightful ... Most Delightful ... Pianist -"
"Her interpretative powers ... are simply stunning -"
Solon Michaelides was moved by her interpretation of his composition "The Lyre of Sappho", which impressed him with its intellectual grasp and emotional depth.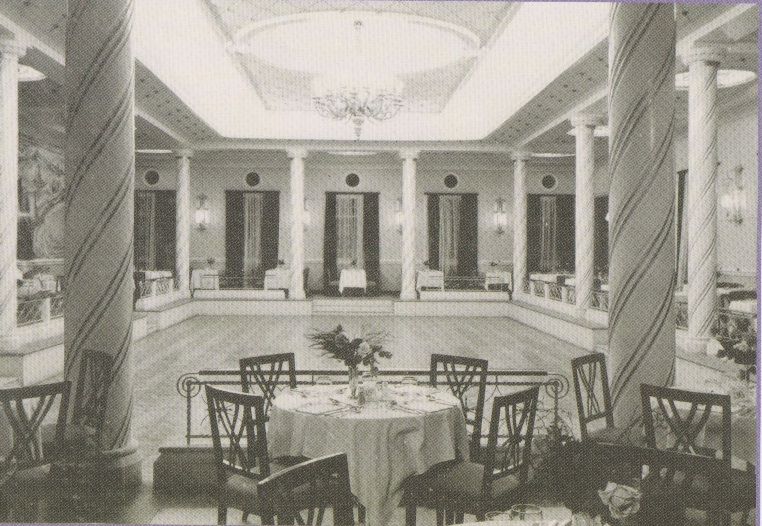 Ballroom of Ledra Palace Hotel
Nicosia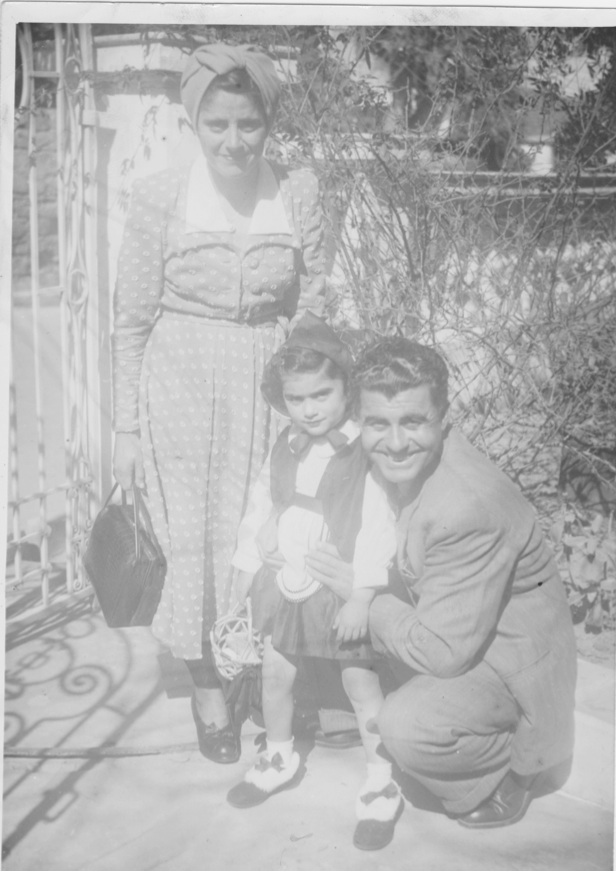 Cilia with her parents
as "Little Red Riding Hood"
after a "Children's Carnival Dance"
at the Ledra Palace Hotel
Her first "platform experience"
Below are some of the critic's comments about Cilia's music.
FANFARE (1):
Cilia Petridou is a Greek-Cypriot pianist and composer, born in Cyprus in 1945. Her music shows a confluence of Eastern and Western elements, not surprising, given her heritage. This is evident in the very first song (most of these "songs" are actually duets), The Grocer, which although tonally cast, includes piquant minor second interjections from the piano, and modal harmonies that one associates with Greece going back centuries. Sirens, while clearly a product of the same composer, evokes quite a different mood, and one feels the allure that is said to have led sailors to their doom. Each of the songs, which also include Kyrenia, What Love Is, Mirrors, Optimism, a three-song cycle called The Siege , and Evtho, is well crafted and evocative of the Greek text being set (translations are provided). The two sopranos have light and pleasant voices, and blend together well in their duets. The lighter of the two is Lesley-Jane Rogers, whose voice occasionally verges towards a Broadway style, but it doesn't seem misplaced in this music. The one less-than-fully successful work on the song CD is the three-movement cycle, The Siege. There is simply not as much variety in key center and texture as I would like to hear in a work of 24 minutes duration.

The final work on the first CD is Evtho, which adds a violin, clarinet, and cello to the piano in the accompaniment to this 19- minute mini-drama involving a mother and her family. Also included in the vocal mix is a baritone part, sung by Lukas Kargl. The additional instruments are handled well, and add welcome colors to the drama of the setting.

The second disc in this set is devoted to instrumental chamber music, most of which is drawn from incidents in the composer's Cypriot upbringing. It opens with her piano quartet, Memories , indeed an elegiac work, replete with gentle long-flowing lines in the strings underpinned by subtle and wandering harmonies. Melodic figures, such as an ascending line containing the pitches A, B ? , C ? , D, again suggest the composer's birthplace. The rather static second movement, in fact, evokes the timelessness of a locale unchanged through the centuries, although its title, "First Loss," commemorates the composer's first memory of death that intruded into her life during her teens when she lost three friends.

Petridou's string quartet bears the unusual title The Collar , and musically depicts an incident from the composer's childhood that involved her confrontation by the then-occupying British soldiers, who took it upon themselves to see that when the order was given, there were no schoolchildren out and about on the streets (Petridou was grabbed by the collar by a soldier during one such incident). The work is consequently rather restless and agitated, even while maintaining rather secure tonality throughout its brief eight-minute course. The same, other than its brevity, may be said about the piano trio Black July 1974 , a work remembering the Turkish invasion of that year, resulting in the division of the capital city as the last remaining such city in Europe. Its movements recall the composer's leaving Cyprus in 1965, her lament for the once- thriving city of Famagusta and her happy memories resulting from Cyprus's independence in 1960. The final movement is entitled "Optimism—Sadness," and portrays the actual invasion. The recital is filled out by four short character pieces for violin and piano, likewise drawn from the composer's experiences and memories.

This is heartfelt music, played and sung with conviction. Even though a sense of direction and movement in her music is not always clear (although often it is), its pathos will win over many listeners, and I recommend it accordingly. The booklet gives a good picture of the composer and her times, along with biographies of the performers. Other production values, such as recorded sound are also good on this U.K.-produced disc.
David DeBoor Canfield
AMERICAN RECORD GUIDE:
I can think of very few composers who might be more appropriately described as "neo-classical" than Cilia Petridou. In both the songs and the chamber music included in this two-disc set there is a melodic and harmonic language that recalls 18th- or 19th Century European classical traditions, both in terms of musical vocabulary and expressive and dramatic temperament.

The listener is not likely to mistake this music for actual 18th- or 19th Century works. A modern sensibility about harmony and voice-leading appears from time to time, and the forms of pieces or movements are not "classical". Some songs like 'What Love Is' deviate a bit from this general aesthetic, incorporating an almost show-tune style of harmony and attitude. Still, the predominant mode is neo-classical, with an added Mediterranean flavor, presumably owing to the composer's Greek heritage.

Her piano quartet. Memories, and her piano trio, Black July 1971, are both somber tributes to the tumultuous political history between the UK and Greece. Petridou was affected directly as a child, and she emigrated to the UK in the mid 60s. All of the music is accessible and easy to appreciate for its craft and heart-felt expression.
George Adams
FANFARE (2):
The first CD in this double album of Cilia Petridou's music is given over to vocal music, most of it for two sopranos and piano—a highly effective combination that more composers ought to explore. The flirtatious opening song, The Grocer , is sung by Alison Smart and Lesley-Jane Rogers with evident enjoyment, almost like a latter-day version of the "Cat Duet" misattributed to Rossini. Sirens is something I don't think I've heard before—a free-standing vocalise- duet (there are some in opera, sure, but I don't know of one conceived as such from the start); though the title may suggest allure, in effect it's a wordless lament. Petridou's own text makes the next lament—for her lost homeland— specific in intent, with the two overlapping voices suggesting some kind of intensely felt funeral ceremony. What Love Is , the first solo song here, is bluesy and teasing; Mirrors likewise has a jazzy, smoky quality. The dark tone of Optimism belies its title, though it is briefly relieved as the music proceeds.

The Siege is an extended scena, 24 minutes in length, two extended panels hinged on a brief central section, the voices keening movingly in their sense of loss; the music takes on a hieratic quality in its closing pages, and the coda is a representation of bells. The piano parts in some of these compositions are sparse, oddly from a pianist-composer (perhaps because of the working conditions she explained to me); in The Siege it sounds almost like the reduction of an orchestral texture—and, indeed, The Siege might respond very well to orchestration, at least for string, and perhaps for full orchestra, not least since it comes close to stalling at times, and long lines in the accompaniment would maintain the momentum. Evtho , another extended setting, 20 minutes in duration, adds a baritone to the two soprano voices and a violin, cello, and clarinet to the piano, though the hesitancy of the other pieces endures; The Grocer apart, not one of these works develops its own momentum, which is part of what gives The Siege and Evtho their ritual quality—it's as if you are waiting for some ceremony to unfold. She did say that she was unfamiliar with classical harmonic procedures until late in her adolescence; perhaps this formal, deliberate manner is an echo of the music she heard around her in her younger days.

Turning to the CD of Petridou's chamber music, I realize with hindsight what she meant when she said it "will probably appeal more to Western audiences" than the songs—although Petridou's oddly diffident writing style takes some getting used to. There is a degree of amateurishness to it, for reasons that her interview makes clear, but once you settle down to its rather stop-and-start way of unfolding, its essential honesty begins to make its mark—and the very want of fluency gives it an innocent charm, not least since it is often very lovely.

The piano quartet Memories dates from 1979 and, as the title suggests, evokes the Cyprus of Petridou's childhood. It opens with a bashful exchange of phrases between the participants that grows slightly more confident but never quite settles into its stride; the second movement is another lament, the more effective for its understatement; and an attractive folk tune launches the finale Attacca and provides the material for its gently evolving development. Like Memories , the single-movement string quartet The Collar (the composer's booklet note explains the point of the title but doesn't date the piece) feels its way forward through a moving haze of folk-flavored recollections. The piano trio Black July 1974 (1979) makes its intentions clear in its title: It is a three-movement elegy for the life in northern Cyprus that the Turkish invasion was to rob from its Greek inhabitants. Perhaps anger serves Petridou well, since the first movement at last generates a degree of momentum—initially, indeed, the music occasionally recalls Beethoven—but the impulse is soon dissipated. The second movement is a haunting "Lament for Famagusta" and the third supposedly "recalls happy times during the first months of Independence" (in 1960)—but it is hardly less sorrow-laden than the rest of the music here; the same applies to the finale, which opens in bright-eyed innocence and soon turns to sadness.

The remaining four works on the CD are character-pieces for violin and piano (none of them dated in Petridou's booklet notes), two either side of two minutes, the other two flanking five; the mood is the one already firmly established.

The performances on both CDs are sensitive and thoughtful; I wondered whether a more assertive approach might have got the chamber works out of second gear—but it might also have bullied these tender plants beyond their carrying capacity. Anyway, the uniformity of the idiom doesn't serve the music well when you line it all up in a row; in a concert, coming between two other composers, Petridou's atmospheric and thoughtful idiom would offer an attractive contrast. The recorded sound is entirely natural, and the booklet offers the full Greek text of the songs and English translations.
Martin Anderson